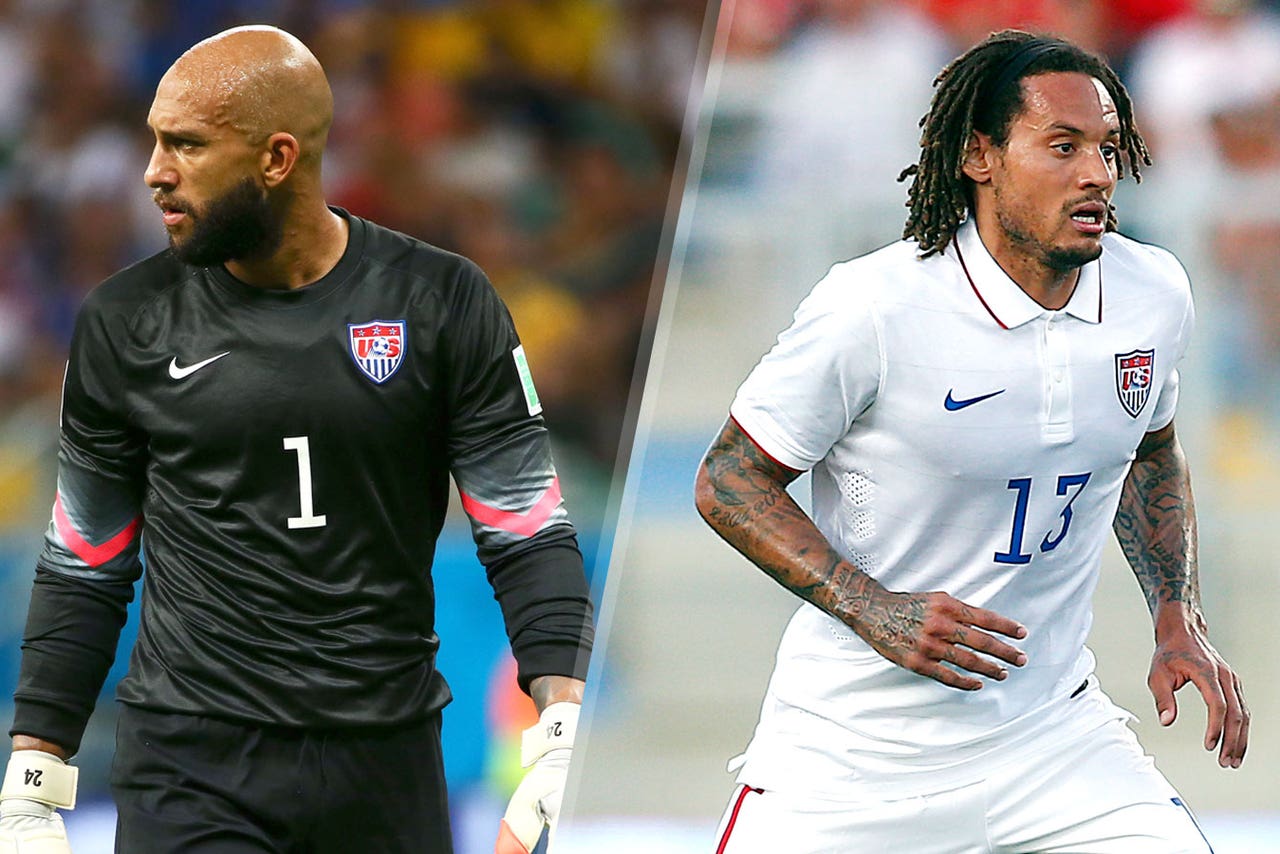 United States coach Jurgen Klinsmann has recalled Geoff Cameron, Tim Howard and Jermaine Jones for the upcoming friendlies against Peru and Brazil.
Cameron and Howard are both set to make their first international appearances in 2015, while Jones is back in the picture after recovering from sports hernia surgery in June.
All three give the veteran 23-man squad, with Michael Bradley and Clint Dempsey allowed to remain with their club sides for Friday's friendly against Peru (LIVE, 7:00 p.m. ET, Fox Sports 1, Fox Sports Go ).
Bradley and Dempsey are expected to play in Saturday's MLS match between the Seattle Sounders and Toronto FC, before joining their international teammates in Boston to prepare for a friendly against Brazil on Sept. 8 in Foxboro, Mass.
Klinsmann also reinstated TFC forward Jozy Altidore to the squad after he was dropped for the CONCACAF Gold Cup knockout stage and called up several other familiar faces – including Sporting Kansas City defender Matt Basler and Club Tijuana defender Michael Orozco Because the preparation for the upcoming has intensified. Confederations Cup playoff against Mexico on 10 October.
"The big picture is to get some answers about how we put things together a month from now for the Mexico game," Klinsmann told ussoccer.com on Sunday. "Obviously we want to continue to have a good flow of guys from the Gold Cup, but also bring back guys who are in a position to compete for a spot on the roster for October 10. For these guys, our The message is simple: Prove .a point you deserve to be in the Rose Bowl.
The defense brings more turmoil with DaMarcus Beasley, Timothy Chandler and Fabian Johnson all out due to injury. Beasley (injured in Houston's 2-0 win over Vancouver on Saturday) and Chandler (injured in Eintracht Frankfurt's 4-1 win over VfB Stuttgart on Saturday) underwent surgery to repair the meniscus in their right knees after sustaining a complaint. is expected to) complicate matters with his injuries this weekend.
The resulting defensive core is heavy on experience and consequently short on natural fullbacks. Basler, Cameron and Orozco join a crowded group that includes regular starters Ventura Alvarado and John Brooks, as well as Gold Cup reserves Omar Gonzalez and Tim Ream. Atlas left back Greg Garza is the only natural fullback option among the group, though several players — including Cameron, Ream and DeAndre Yedlin — could line up in those berths.
"We want to see competition, and then we're going to make some calls," Klinsmann said. "Clearly the most important calls come down to the roster going into the Rose Bowl."
Jones steps in to fill in front of the back four with a vacancy in the midfield department. Klinsmann left Kyle Beckerman out of the squad to deal with a lingering complaint and opened up his usual front four position. Reading midfielder Danny Williams provides another potential option in that department after missing out on the Gold Cup run.
There are also questions to answer for the first time with in-form SV Sandhausen forward Andrew Wootton. Union Berlin forward Bobby Wood is also back in the squad as Klinsmann tries to assess other options in that department with Altidore and Aaron Johansson firmly in the mix.
"It's really important for him to understand," Klinsmann said. "There is a time when you go ahead and make yourself comfortable and be part of a group, but there is also a time when you take that moment and build your future in the team. Now after a year that we called a transition year where we developed young forwards like Aaron Johansson and Bobby Wood and obviously a few others, we look forward to seeing the next generation of forwards continue. By that I mean to score first."
The next two matches provide an opportunity for Klinsmann and this group of players to prepare in earnest for the date with El Tri at the Rose Bowl. The pressing nature of that encounter heightens the urgency within the ranks, with a Confederations Cup berth hanging in the balance and World Cup qualifying in November.
"With these games, this is not the time to be patient," Klinsmann said. "It is really now the time for people to make a really strong impact that they understand the situation that happened in the Gold Cup. These games are not about developing things for the future. It's about proving a point towards the Mexico game."
USA roster to face Peru and Brazil
goalkeeper: Brad Guzan (Aston Villa), Tim Howard (Everton), William Yarbrough (Club Lyon)
defendersVentura Alvarado (Club America), Matt Besler (Sporting Kansas City), John Brooks (Hertha Berlin), Geoff Cameron (Stoke City), Greg Garza (Atlas), Omar Gonzalez (LA Galaxy), Michael Orozco (Club Tijuana), Tim Ream (Fulham)
midfielder: Alejandro Bedoya (Nantes), Joe Corona (Veracruz), Mix Discrud (New York City FC), Jermaine Jones (New England Revolution), Alfredo Morales (FC Ingolstadt), Danny Williams (Reading), DeAndre Yedlin (Tottenham Hotspur)
ahead: Jozy Altidore (Toronto FC), Aaron Johansson (Werder Bremen), Bobby Wood (Union Berlin), Andrew Wootton (SV Sandhausen), Gyasi Jardes (LA Galaxy)
* Michael Bradley (Toronto FC) and Clint Dempsey (Seattle Sounders) to join rosters for Brazil match only; Sean Johnson (Chicago Fire) to replace Yarbrough after Peru friendly
---
---