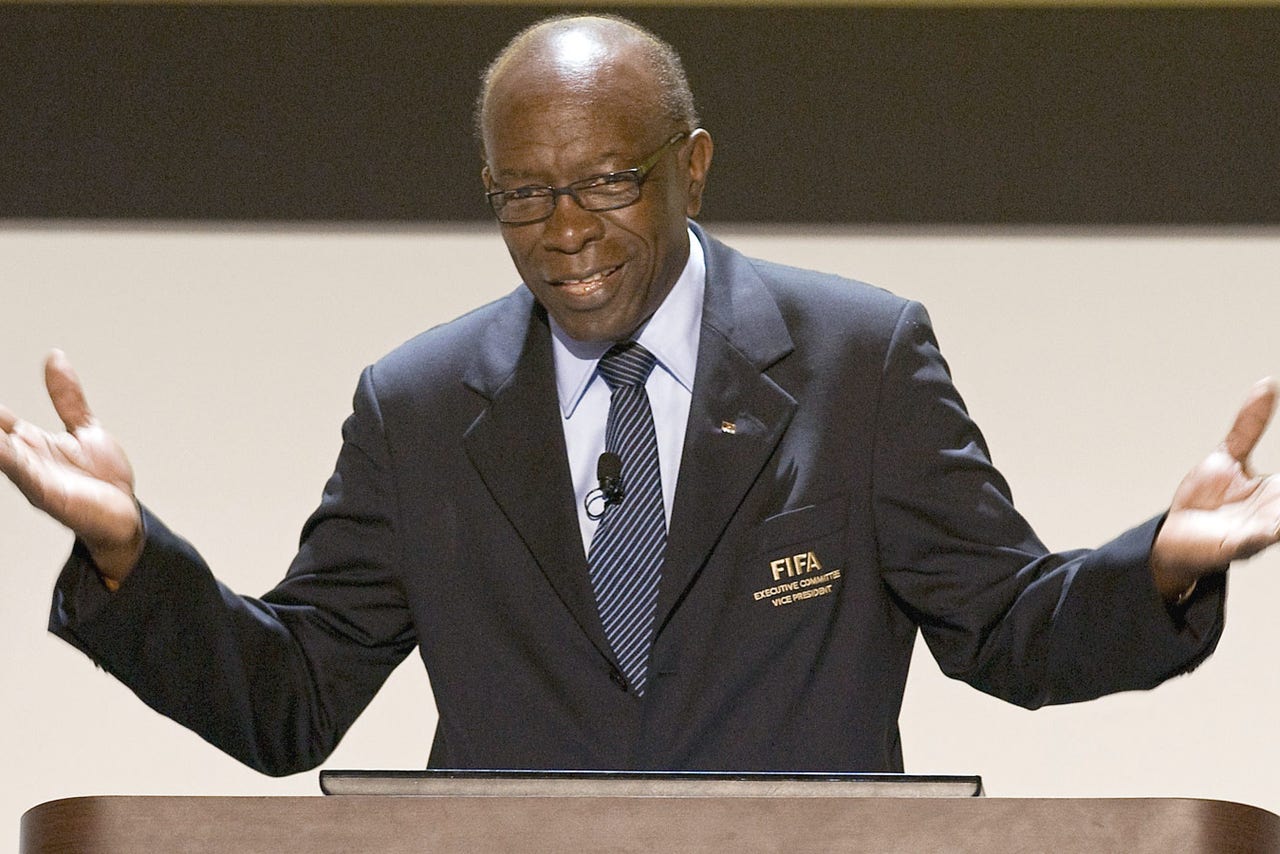 Disgraced former FIFA vice-president Jack Warner has claimed it is no coincidence that his life ban has been announced at the same time Sepp Blatter has been mired in a storm of controversy.
More than four years after leaving FIFA, Warner found himself banned from football for life by FIFA's ethics committee and described as a "key player" involved in illegal payments.
Warner claimed there was an attempt to deflect attention from investigations into FIFA president Blatter and UEFA president Michel Platini, who are themselves under investigation by the ethics committee.
Warner said in an email to Press Association Sport on Tuesday: "I left FIFA in April 2011 and if FIFA wants to ban me for life without a hearing in September 2015 then so be it. I do not believe it will serve as a distraction to the current problems of FIFA as FIFA wants it to be.
Looking at what is happening with Blatter in Zurich, I want to say that there is no such thing as a coincidence.
The Swiss attorney general on Friday opened criminal proceedings against Blatter, probing a £1.3million payment to Platini and a TV rights deal with Warner.
Platini and Blatter both issued statements on Monday denying any wrongdoing and insisted the payment of 2 million Swiss francs to Platini was legitimate, even though the Frenchman had worked for FIFA for more than nine years. Are.
Warner, who is fighting extradition from Trinidad to the United States on corruption charges, resigned from FIFA in June 2011 following a bribery scandal and has not been involved since. Initially FIFA stated that it had no power to take action against him as he had resigned with a "presumption of innocence".
However, FIFA's ethics committee reopened an investigation into Warner earlier this year and has now issued a ban.
A statement from the ethics committee said: "Mr Warner was found to have persistently and repeatedly committed numerous and varied acts of misconduct during his time as an official in various high-ranking and influential positions at FIFA and CONCACAF went.
"In his positions as a football official, he was a key player in schemes involving the offering, acceptance and receipt of undisclosed and illegal payments, as well as other money-making schemes."
The decision was taken on the basis of an investigation carried out by the Ethics Committee's Investigation Cell following its report on the investigation into the 2018/2022 World Cup bidding process – Garcia's report into the bidding process identified that Warner received or solicited money from bidders. Often in the form of development money.
Chung Mong-joon, the Korean who is running against Michel Platini for the presidency, said FIFA is in "total meltdown" and needs to set up an emergency task force to run the organization until Blatter's successor is chosen. .
Chung said: "The 2018 World Cup qualifying matches continue to be held. Several football development programs continue to be implemented. However, FIFA, which should be overseeing all this, is in a state of complete meltdown."
"Under such circumstances, FIFA and the regional confederations should consider convening extraordinary sessions of their respective Executive Committees as well as Congresses to establish an emergency task force that would enable the FIFA Secretariat to function without interruption. "
Meanwhile, Eduardo Lee, one of seven officers arrested in Zurich in May, has been extradited to the United States approved by the Swiss Federal Office of Justice (FoJ).
Lee, the former president of the Costa Rican FA, has 30 days to appeal to the Swiss Federal Criminal Court.
He is the third of seven officials to have his extradition approved, while former FIFA vice-president Jeffrey Webb remains on bail in the United States after agreeing to be extradited.
---
---