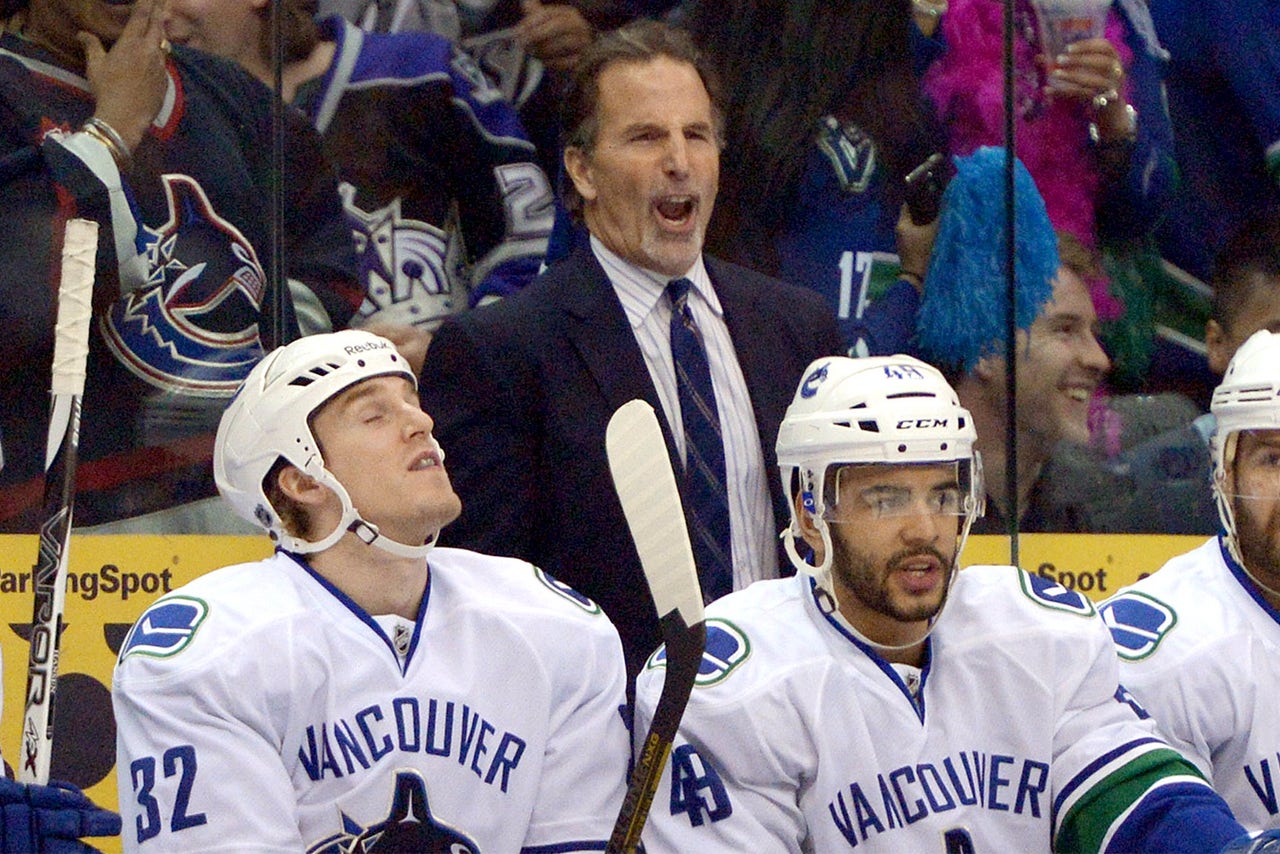 John Tortorella's decision to return to coaching is separate from his desire to one day land a second NHL job after a one-year absence.
Calling the two "apples and oranges", Tortorella put his country first and his NHL career second by getting the chance to coach Team USA at the 2016 World Cup of Hockey.
"I have a lot of people who ask me the question, 'Does this get you back in the National Hockey League or a foot in the door?' I look at it completely differently," USA Hockey said Tuesday, a day after announcing its recruitment. "It's about doing the right thing and getting ready to play the World Cup against other countries."
And if it meant representing the United States, the NHL's winningest US-born coach was eager for the opportunity when USA Hockey officials first approached him.
"I think it took me two seconds," said Tortorella, who is from Boston. "This is America, this is your country."
At age 57, the sometimes passionate and sometimes combative coach, known by the nickname "Tortes", has been behind the bench since his 14-year career came to an abrupt halt in May 2014, when he was fired by Vancouver I was fired after one year of coaching. Canucks.
Tortorella admitted to spending the last year soul-searching to determine what he might have done differently in Vancouver. It was a season in which the Canucks suffered a second-half collapse, missing the playoffs three years after reaching the Stanley Cup finals.
"I've searched and looked at situations where I could have done a better job there, and I have some answers with that," he said. "So definitely, I think you become a better coach when you dig deeper."
That's what Team USA and Los Angeles Kings general manager Dean Lombardi is counting on from Tortorella, who won a Stanley Cup with Tampa Bay in 2004, when he was also named the NHL's coach of the year, and has a career record of 446-375. 115 split the record among three teams including the New York Rangers.
What impressed Lombardi most was Tortorella's openness with regards to his coaching philosophy, and his willingness to admit mistakes made when dealing with players, opposing coaches, and even the media. In.
In Vancouver, Tortorella developed an ongoing feud with Calgary Flames coach Bob Hartley, and was suspended for 15 days for trying to enter the Flames locker room following a brawl between the two teams.
Lombardi said, "It's not often when you see someone with that kind of track record willing to admit that he made mistakes."
This leads Lombardi to believe that tortorella can get even better.
"I think it's invaluable," he said, referring to Tortorella's yearlong vacation. "He gets a little breath of fresh air and realizes he's made mistakes, you're going to get even better coaches down the road."
Based on discussions with potential American players, Lombardi said Tortella deserves his immediate respect.
Tortorella's teams are also known for their hard working, attacking style. With little time left to prepare a team for the three-week, eight-team tournament in Toronto next September, Lombardi is looking for a coach.
Lombardi said, "He immediately gives your team an identity, and there's no question that stands for anything."
Tortorella not having an NHL job also works as an advantage. This means he can focus entirely on the World Cup, finding players and adding to his staff.
Tortorella has ties to USA Hockey, notably coaching the US team to a sixth-place finish at the 2008 World Championships. He was also an assistant with the national team twice, most recently working under Ron Wilson on the US team that won the silver medal at the 2010 Vancouver Games.
USA Hockey announced earlier in the day that Tortorella would coach the national team at the Deutschland Cup in November. The team will be composed mostly of American players currently competing in Europe. NHL Network also announced that Tortorella would serve as an analyst this season.
Tortorella is hoping to eventually get back behind the bench in a familiar spot — any bench.
"Oh my god, yes," Tortorella said. "We are playing for our country. And I am very excited and honored to have this opportunity."
---
---